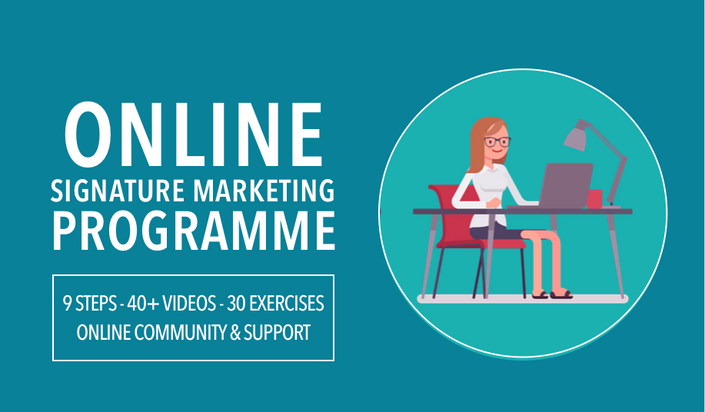 Online Signature Marketing Membership Programme
Boost marketing activity with a complete online marketing programme
Watch Promo
Enroll in Course
You are purchasing the Online Signature Marketing Programme. Discover the 9 steps needed to transform your business marketing that removes the guesswork with planned, targeted activity.
Our Signature Marketing Programme has been specifically designed to ensure delegates learn the essential principles and techniques of business marketing and then apply to their own business.
Choose a payment option below and you will be directed to the payment page. We are excited to be working with you.
Ready To Build Marketing Results?
The Signature Marketing Programme is an online learning programme for smaller businesses wishing to build a meaningful, profitable activit.
Building a business requires clarity, vision and the ability to execute consistently on the right strategies. Without a roadmap or guidance though, the process can be overwhelming. So whether you want to turn a part-time enterprise into a full-time business, grow an existing company, or whether you wish to increase marketing professionalism, this programme will teach you how to:
Define your business vision and clarify goals to grow a business that's 100% aligned with your values
Understand and measure your numbers, so to charge what you're worth, increase profits, and make smarter strategic decisions
Increase marketing activity with smarter, more consistent action, with focused, planned, timed routines
Build trust and audience engagement whether with new or existing customers
Create outstanding customer experiences
Craft a unique, persuasive brand with more compelling messages
Navigate the complex world of online and offline marketing
Learn proven marketing strategies and understand which tools to use
Leverage your unique strengths to inspire those you work with
Automate processes and heaps more
The Signature Marketing Programme does require some effort, but is gleaned from many years of marketing experience that will ultimately provide you with the tools you need to market business more effectively, quickly.
Effective marketing requires enormous focus, courage and tenacity. It requires consistent action, and a willingness to play the long game. Our goal is to train you to think, behave and make smart decisions with skills that will serve you throughout your business life.
A Unique Step-by-Step Approach With Everything Online
This is a PROVEN path to success with agency tactics that we have used in our own and client's businesses.
Today marketing a business requires a 360-degree approach that covers traditional marketing principles, sales navigation, customer care and business understanding. With 9 unique steps, plus multiple baby steps, the insight and learning you will receive is up-to-date and relevant to each key business area.
With over 40 hours of bite-sized training videos, plus over 30 corresponding exercises, you are encouraged to apply what you learn to YOUR business, with quizzes and questions to ensure that you learn specific points along the way. It is this practical application that makes The Signature Marketing Programme stand out, as all too often people struggle to apply what's learned in the classroom to their own business.
As a member, you'll have access to the entire library of training materials inside the learning management platform to revisit and review as often as you like. You have access to ALL the training materials for as long as you continue your membership, or 365 days if you opt for the reduced annual payment. If you are prepared to put in the hours you can complete the programme within a few weeks, that said success will ultimately come from the exercises that you complete between sessions. You are encouraged though not to race to the finish line, or you may miss vital tools and techniques.
E-learning is all about convenience and flexibility. Study around your work or lifestyle commitments, at times convenient for you. Reduce time and cost by not having to attend classes. Study when and where you like without stress of deadlines or time limits, and complete at your own pace.
So if you have a full-time job, have a young family, are travelling the world, or dealing with significant life events don't worry about falling behind. Learn from pretty much any device with a decent internet connection via the online learning management system. Or download videos and learn on the move.
At times you may feel certain aspects are less relevant to your specific business, that's fine, skip the step and come back when it is more appropriate.
Support Plus An Online Community
If feeling overwhelmed or a little in over your head we can help. Once you join the Programme, you'll have guidance and support from like-minded individuals in a safe and encouraging Facebook community. Or ask questions and get feedback from Nicky and Liz who have over 40 years combined marketing experience and practical insight on the very issues you are facing. In the private, member-only community you can share ideas, get feedback and make new connections. The more you take part, the more you will get back.
9 Unique Marketing Steps…
plus multiple baby steps, a comprehensive library of bonus training in the form of audio podcasts, and a growing library of additional help sheets to develop the skills to build a sustainable business.
Step One: Align Goals, Aspirations and Objectives
This is about tactical planning. If you haven't already, you need to set goals and objectives and make sure that everything you do achieves them. We bang on about planning a lot at The Marketing Menu, but it is so important. You need to understand your business skillsets and then identify your target markets to build a sustainable, profitable business from the get-go. Following these will mean you remain focused and targeted in your marketing approach and in essence underpins everything you are going to put in place.
Step Two: Understand Our Customer
This is about targeting effectively and removing any barriers to purchase by achieving customer insight and understanding the process they go through when making a purchase. With this knowledge, you can work out which activity is going to be more profitable. How do you sell benefits not features and what metrics can you convey so that you demonstrate customer value which will help you influence others, and in turn convert more sales.
Step Three: Combine Marketing Channels
What tools can you use, there are so many out there, and which ones are going to work best for you? How do you combine them, so they promote your brand and reinforce your message every step of the way? We look at developing a brand approach so key messages are more consistent and customers understand who you are? A brand is so much more than merely a logo.
Step Four: Adapt Market Position
Where is business now, is it working or do we need to seek out new opportunities? Let's decide where you want to be and investigate the opportunities to innovate, bring in new products or services, add value or reposition your business if needed. All the while remembering your goals and objectives of course. We look at pricing and the methods to set prices and how to be aspirational yet realistic. Do you undervalue your true worth?
Step Five: Measure Marketing Effectiveness
Once you've combined your channels, or redefined your activity, you need to check it's working! First, you need to know what it is you are going to measure – is it hits on your website, Facebook reach, popular tweets, direct mail conversions, phone calls and what tools do you use to collate the information? Then you need to interpret results and, this is crucial, act on them! Use that social media analysis to create more content that you know is going to be popular or perhaps redefine activity.
Step Six: Design a 12-month Action Plan
We love this one - We also like the phrase, "plan to plan, don't plan to fail." Generate ideas and action points and be very clear about when and how you can put them into action. By writing it down, it's clear for everyone to see, and you are more likely to achieve your objectives. Then let's roll it up with some time-bound activity so that you know what you need to be doing on a monthly basis to move towards your goals. We can help assign a budget so you can plan your marketing spend and put in some controls, so we know who is doing what by when.
Step Seven: Define Your Customer Journey
When you know what your 12-month actions are, you can then plan the content is going to get you maximum exposure. When putting it together, you can add in significant dates that are important – for instance, if you are a vegetarian restaurant, you will want to piggyback on National Vegetarian Week. During this time, you may want to 'add value' by offering discounts or coupons, a special menu, or specific emails. Or you may want to issue a Press Release highlighting what you do or offer an expert comment. By putting this on your calendar, you won't miss a trick. In this step you'll develop a strategic achievable plan to stay connected to your audience, attract new fans and promote your offerings — based on your unique strengths.
At what points are new, existing or potential customers aware of you and are you making the most of these opportunities? How can you use this information to ensure that you offer more cleverly targeted information, that they want, so that you foster client relationships and build that all important lifetime value?
Step Eight: Craft Distinctive Communications
You need to be very clear about your style and tone of voice in all communications from the way you send emails or answer the telephone to how you word content on social media. Are you using storytelling to highlight what you do? People are more interested if you can communicate what you do through the use of case studies and testimonials rather than just a 'we're great, buy our thing'. Make sure everyone in your team knows what your key messages are to strengthen your brand. You may want to create some policies too, so everyone is singing from the same hymn sheet. You'll also learn how to deliver distinctive communication by looking at copywriting styles, blogging do's and don'ts, how to create content that helps increase sales, the key to choosing the right ratio of content versus promotion, and how to make smart decisions on what, where and how frequently you publish.
And finally, Step 9: Navigate Promotional Channels
How are you using Social Media, PR and Advertising? Are you aware of all the advertising and PR opportunities out there? Sometimes good old-fashioned marketing tools are useful, like flyers and inserts but are you missing opportunities that could be just as successful? Are you using the right social media channels and what tools and techniques would make life easier? Finally, let's look at websites that convert. A site shouldn't just be pretty; it should be an unpaid salesperson, working 24/7 to build trust, grow your audience and elegantly turn browsers into buyers and raving customers.
Benefits of Enrolling:
Convenience and flexibility; study around your work or lifestyle commitments and reduce time and cost by not having to attend classes at a physical location
Business marketing exercises to support the learning process
Practical tools and activity to put to work immediately in your business
Insight from other business experiences
Hints and practical tips from experienced marketing professionals
Cost effective learning and a supportive community for as long as needed
Tutor email support with supportive online community
Current, relevant marketing tools and techniques
Grounded in commercial business reality that concentrates on outcomes
Work 'on' your business, not 'in' your business
Without a roadmap or guidance, marketing a business can seem overwhelming. The Signature Marketing Programme will fast-track your growth and help you avoid costly mistakes. That said are no silver bullets, simple formulas or guaranteed results.
This Programme is not for...
Folk seeking a one-to-one business coach.
Folk seeking help with legal or financial setup, raising funds, manufacturing or distribution.
Those looking to market to fellow students. The Signature Marketing Programme is a pitch-free environment.
Those who consider themselves an online marketer. If you've mastered content marketing, content creation, advertising, consider yourself an expert in free and paid traffic generation, or activity planning this experience is not for you.
Those who hope to learn by osmosis. The Signature Marketing Programme is for action-takers who understand that real change happens with consistent, focused effort over time.
Folk seeking immediate results. This is not a "get rich quick" programme. It's about building sustained activity over a period of time to produce results.
How much time you will need
We recommend between 2-4 hours per week to watch videos, complete assignments and engage with tutors and the Facebook community.
Naturally, the greater focus and effort you put into The Signature Marketing Programme, the more you'll get out of it. But if you are unable to carve out that much time at first, don't worry. Many go through the programme as best they can, pause, and return to it as their schedule allows.
Your Trainer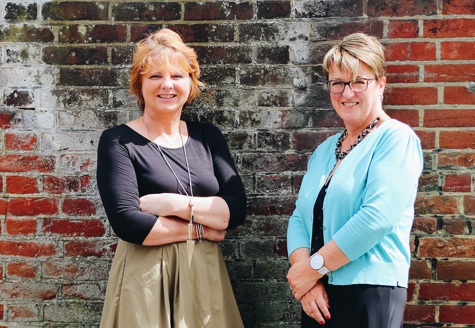 Join us as we address the world on all things business marketing, with the occasional food analogy of course! Together we demystify marketing terminology and make good advice accessible to all, with no Americanisms or techno babble, just sound, honest, useful advice that you can put into business with confidence.
Both Nicky Matthews and Liz Gordon run boutique marketing agencies, and together have founded The Marketing Menu Consultancy, a business of three parts providing bite-sized marketing tasters for growing business from their podcast channel, face-to-face training programmes, and online training courses for those wanting no nonsense marketing tools grounded in practical business advice. Together they are Chartered Institute of Marketing marketers with over 40 years' industry experience.
Course Curriculum
Welcome To The Signature Marketing Programme
Available in days
days after you enroll
Step One - Align Goals, Aspiration and Objectives
Available in days
days after you enroll
Step Two - Understand Our Customers
Available in days
days after you enroll
What is included in the programme?
9 unique steps and multiple baby steps covering the full spectrum of business marketing
Over 40 videos with over 10 hours of video based content
Over 30 individual exercises to download and use immediately in your business
Membership of our private Facebook community
Community and online tutor support
Over 10 hours of audio podcasts
Optional monthly Skype or telephone Tutor support for small additional charge
Frequently Asked Questions
Will it work?
Will this work if you join us, and then don't participate? NO! Will this change your business if you join us, and participate? YES! This is a PROVEN path to success with agency tactics that we have used in our own and client's businesses for 10+ years. You get access to these tactics for a fraction of the cost of what clients have paid.
Will The Signature Marketing Programme work for me if I don't have a business?
It is perfect if you're just starting out as we cover business, marketing, sales and customer care, each essential in their own right. This way you will think like a business person and hopefully, avoid costly mistakes even smart entrepreneurs make when launching a business. Each Signature Programme includes access to our Private Facebook Group so that never feel left behind.
My business is different — will this work for my industry?
Whether you have customers or clients, they want to get to know you and your business and what you can do for them, whether you are selling high-end shoes or low-cost trainers, you need a market to sell to, and you need a story and platform from which to sell. It does not matter whether you are B2B or B2C, either way, we will spend valuable time identifying your audience and crafting marketing communication around this and the business goals.
Can I take The Signature Marketing Programme with my partner?
The Signature Marketing Programme is a single membership program, meaning one person per membership. To do the program along with a partner, please enrol separately and by all means work together. However, we each have individual skills and interests so you need to see this as a valuable opportunity to learn more on that individually and by sharing experiences alongside one another.
Do you offer a guarantee?
Yes. We've always backed our programme with a 100% satisfaction guarantee. Here's how it works. Participate in the first two Signature Marketing Programme steps within 14 days and if you feel that Programme is not right for you, send us an email. We'll ask for your completed Worksheets to make sure you gave it a go and you'll be asked what didn't work for you so we can learn and improve. Once we receive your completed coursework and we can see you put in the effort, you'll get a swift and complete refund.
Is The Programme just for ladies?
Absolutely not, although the majority of our learners are women to date, the content is certainly not gender specific, and everyone is welcome.