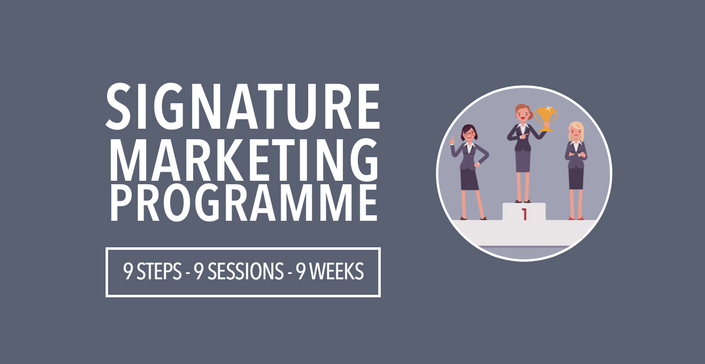 You are purchasing the Signature Marketing Programme. Benefit from a complete 360-degree marketing approach. We are excited to be working with you.
Choose a payment option below and you will be directed to the payment page. We cover all the essential techniques that will enable you to develop a timely, budgeted, fully executed marketing activity plan to implement back in the workplace.
Each session includes refreshments and a Workbook which will become your key marketing activity plan. You are also invited to join our Private Facebook Group and we share course slides with you after the event so that you never feel left behind.
Forthcoming Salisbury Dates:
22 May - Align Goals, Aspirations and Objectives | Tactical Planning
29 May – Understand Your Customer and Build Marketing Activity FAST
05 June – Combining Marketing Channels to Develop a Brand Approach
12 June – Adapt Market Position | Position Your Business for Healthier Profits
19 June – Measure Marketing Effectiveness | What to measure and how to interpret results
26 June – Design a 12-month Action Plan | Design a timed, costed, targeted, strategic marketing plan
03 July – Craft Distinctive Communications | Build Loyalty and Rapport
10 July – Define The Customer Journey | Develop a content marketing calendar that adds value
17 July – Navigate Promotional Channels | Social media and working with journalists
Next Programme Dates:
9 Steps - 3 Sessions - 6 Weeks
Next Programme: Starts 22 May 2019
Sessions: 9 am – 12.30 pm daily
Location: The FireStation Enterprise Centre (TEN), 2 Salt Lane , Salisbury, Wiltshire SP1 1DU
Attendees: Limited to 20 person
Pricing:
Individual Sessions: £39 incl.
Full Programme over 9 Sessions: £300 incl.
Course Curriculum
Session One - Align Goals, Aspiration and Objectives
Available in days
days after you enroll
Understand Our Customers
Available in days
days after you enroll
Combine Marketing Methods
Available in days
days after you enroll
Your Trainer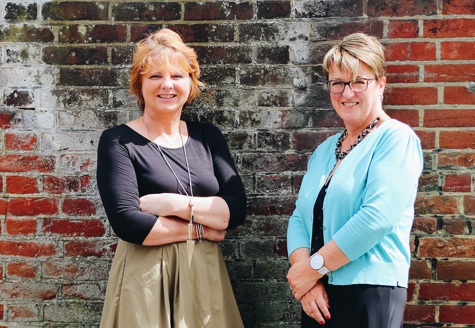 Join us as we address the world on all things business marketing, with the occasional food analogy of course! Together we demystify marketing terminology and make good advice accessible to all, with no Americanisms or techno babble, just sound, honest, useful advice that you can put into business with confidence.
Both Nicky Matthews and Liz Gordon run boutique marketing agencies, and together have founded The Marketing Menu Consultancy, a business of three parts providing bite-sized marketing tasters for growing business from their podcast channel, face-to-face training programmes, and online training courses for those wanting no nonsense marketing tools grounded in practical business advice. Together they are Chartered Institute of Marketing marketers with over 40 years' industry experience.
Frequently Asked Questions
When does the next programme start?
The next Signature Marketing Programme takes place Spring 2019 in Salisbury within easy access of Hampshire, Dorset and Wiltshire just off the M3 and M27. Workshops run from 9am to 12.30pm every day.
How do Signature Programmes work?
Programmes are intensive blended face to face workshops. This means they are supported by both Nicky and Liz so that you can talk through any questions you have surrounding your business. Held in quality venues, predominately across the South Coast. The full Signature Programme is over three days however, you may opt to take one, two or three sessions as desired as each is a stand-alone session. However, you will greatly benefit by taking all sessions so to truly revolutionise your marketing activity. Groups are small so that you get our undivided attention together with support from other key partners, which means everyone benefits from shared experience. Each Programme includes access to our Private Facebook Group so that never feel left behind.
I can't make this event when are other courses available?
Our Signature Programmes are run a couple of times a year. If you have specific location needs please get in touch as we are keen to expand our demand led locations across the UK.
What if the programme isn't for me, can I get a refund?
Of course! We stand behind the content we teach 100%. Here's the thing – we are providing you access to many hours of knowledge and a system that needs to be followed for success. If you feel that after the first session, and you have completed your workbook, that the programme is not for you, we will give a full refund. Be certain; we will hold you accountable on the last point – you have to do the work to be eligible for a refund. Our system is a supported partnership and we hold ourselves accountable for success with the tools we provide.
What if I wish to take all Sessions but I cannot attend all of the dates listed?
If you wish to benefit from the financial saving for all sessions but you cannot do each of the listed dates then enrol anyway and we will update you with new dates as they are scheduled, alternatively,​ we are able to provide online learning for individual sessions.
Is the Signature Marketing Programme delivered online?
Yes! Ideal if you have commitments that prevent you from travelling to our face-to-face programmes but you are independently disciplined enough to learn​ under your own steam. That said working directly with us will always be preferable.